The 2019 Plein Air Festival held in St. Augustine, Florida has ended!
The April 23rd - 30th event culminates in a show of selected paintings that will be displayed throughout the month of May in the St. Augustine Art Association gallery.
Find all the info at: http://www.staaa.org/pleinair/

I'll use this page to post the.paintings I've worked on at the end of each day of the festival.
DAY1
































Here' s an 8x10 oil painted the first afternoon. I hope to get back to the same location to continue working on it. Especially the lower third of the painting. (I got to do a finished version at the end of the week)
DAY 2




























Kenwood Inn 9x12 oil
My wife and stayed at this bed breakfast during our honeymoon thirty-three years ago!
---


















































Trinity Episcopal Parish 12x16" oil
DAY3































This is the Solono Soldano (sp?) house. It's right outside the back door of the SA Art Association. 8x10" oil

I started another street scene on DAY 3 but it's not quite finished and I didn't get a photo until day 6
DAY 4




























(12x16" oil) This was an on and off rainy day.
I went back the next day to continue working on this painting.




The weather cleared up in the afternoon and I found a good spot at the St. Augustine fort. 16x22" watercolor



This was a good vantage point to paint from but this wide angle photo distorts the subject.

DAY 5




I went back to the lighthouse on this much sunnier morning and discovered you can see people that have climbed to the top! So, I included a few of them
Sunlit Lighthouse 12 x16" oil "

DAY 6 - Sunday, QuickDraw from 2-5pm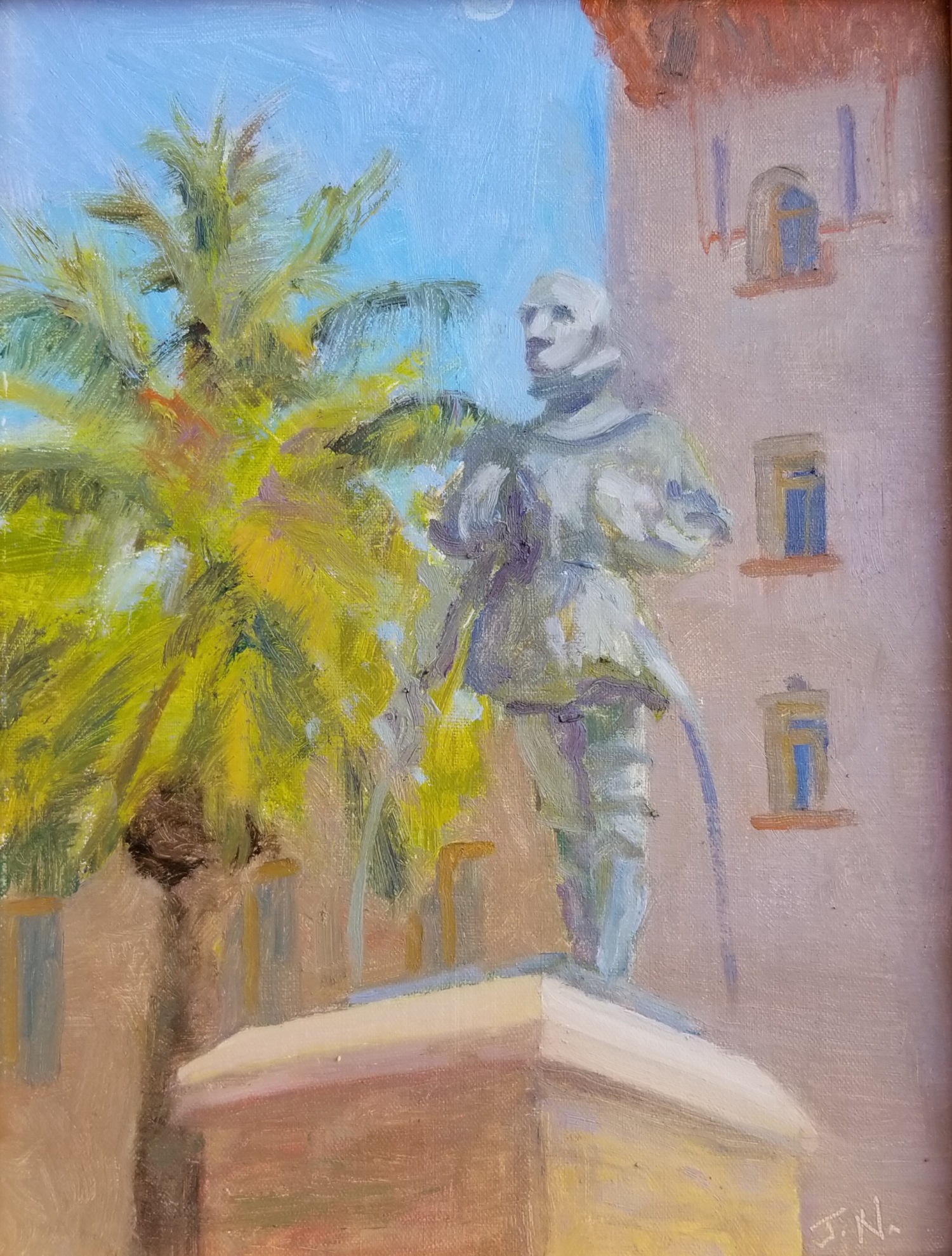 I did the first 9x12 oil to warm up for the actual 2 hour QuickDraw.
I should have picked a simpler subject!

I also started a 16x20 oil later that afternoon.


Day 6, 7 and 8 (I wasn't able to keep up with daily posts. So these are entered after the Paint Out)



9x12" oil I worked on this painting during two afternoon sessions.




16x20" oil I painted this during three early evening painting sessions.


16x20" oil So far, two midday sessions. I plan to refine it and improve the kiosk info graphic.

8x10" oil (the final version of my opening day painting)




8x10 " oil This was done around dusk on the group nocturne night.



My final painting of the Paint Out and my first real nocturne. A closer view of the same Solono House that I painted on Day 3. 5x7" oil

A great week of painting, I'm already looking forward t next year!

UPDATE: Selected paintings from each artist (we could each submit three for jurying) were given a show in the St. Augustine Art Association galleries.
I received an award sponsored byPlein Air Magazine
for my week of painting during St. Augustine's Plein Air Paint Out.

"The award is based on the quantity and quality of the body of work you produced during the 3rd Annual St. Augustine Plein Air Paint Out.
Thank you for participating in the Paint Out. Your artwork is beautiful and your tenacity is extraordinary. Congratulations!" —Elyse Brady, Director of the St. Augustine Art Association"


.